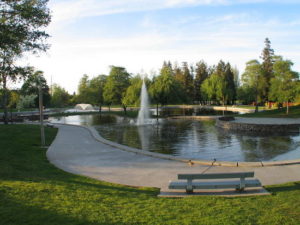 County of Santa Clara
Assistant Controller – Treasurer
BROCHURE LINK: https://documentcloud.adobe.com/link/track?uri=urn:aaid:scds:US:747fc32f-575f-4712-a57c-e290fd1941a7
ABOUT THE COUNTY
SANTA CLARA COUNTY, also known as "Silicon Valley," plays a vital role in harnessing the world's leading region of innovation. The area features a unique combination of geographic attractiveness and social diversity. Located between the beautiful Diablo and Santa Cruz mountain ranges, the geographic region offers many opportunities for a wide range of outdoor activities. With an average of 300 days of sunshine each year and access to the many beaches along the California coast, such as those in Santa Cruz, Monterey, and Carmel as well as beautiful national and regional parks and hiking opportunities in nearby Yosemite, Lake Tahoe, the Sierra Nevada, Santa Clara County is an ideal location. The added attraction of being so close to the world-renowned wineries of the Napa and Sonoma Valley wine country area makes the region second to none. The rich cultural and recreational experiences of life in the California's Bay Area is undisputable.
The County has been recognized by national magazines such as Business Week and Money magazines, for its vibrant neighborhoods, healthy lifestyle, and diverse attractions. The County is home to high-rise residential projects, theaters, museums, and various entertainment attractions such as live music, live theater, cafes, restaurants, and nightclubs. The region is not only attractive to the fitness enthusiasts, but also serves to grow intellectual minds with attractions like the Tech Museum of Innovation, the San José Museum of Art, and many local galleries and venues. There is no shortage of amazing experiences to be had in the one of a kind location.
The County's population of 1.92 million is the largest in Northern California, one of the State's most heterogeneous, rich in ethnic and cultural diversity. Governed by the County charter, the elected 5-member Board of Supervisors establishes policies that affect the day-to-day operation of the County government as well as governance of the county's unincorporated areas. The Board is responsible for an annual operating and capital improvement budget of more than $6.5 billion. Santa Clara County is the third-largest employer in Silicon Valley, with approximately 20,000 employees.
Santa Clara County is proud of its rich cultural diversity, role in being the world leader in innovation and the essential role the County plays in connecting residents and businesses to the nation and the world.
THE FINANCE AGENCY
THE FINANCE AGENCY HOUSES three departments: Controller-Treasurer, Tax and Collections, and Clerk-Recorder. Through its three departments, the Agency manages the County's financial systems and cash resources as well as the cash resources of school districts within the County.
The Controller-Treasurer Department administers the finance and accounting systems of the County, serving over 40 County departments, ten Special Districts, and 37 School Districts. The Agency oversees the County's payroll, cost management, claims, and property tax distribution and houses the County's Internal Audit function as well as the Treasury.
The Controller-Treasurer Department maintains the financial integrity of the County by providing oversight of the County's fiscal management. The Controller- Treasurer advises the Director of the Finance Agency, County management, and the Board of Supervisors regarding financial matters. The Department prides itself on delivering excellent service to all County departments, other governmental agencies, and the public.
ABOUT THE POSITION
THE MISSION OF THE CONTROLLER-TREASURER DEPARTMENT, as a steward of the public's financial resources, is to promote the County's economic viability by managing its accounting systems and assets with integrity.
The Assistant Controller-Treasurer is an executive leadership position which, under the general direction of the Controller-Treasurer, assists in the planning, organizing, and directs activities related to the various divisions within the Department.
Also, some of the typical management responsibilities include:
Planning, organizing, and reviewing a variety of financial activities and programs under the various operational areas.
General accounting claims and disbursements, treasury, payroll services, internal audit, debt management, property tax apportionment, budgeting accounting, and property inventory control.
The Assistant Controller- Treasurer develops, recommends, implements, and maintains accounting systems under generally accepted accounting principles and policies and procedures specific to reimbursement and reporting requirements to meet the needs of the County and regulatory agencies and entities.
Reviewing accounts receivables and third-party receivables, liability accounts, and monthly financial statements.
Maintaining compliance policies and procedures specific to Countywide financial operations, reporting, preparation and filing for government programs and grants, and associated compliance education and training.
Participating in new system selection and implementation.
Acting as a liaison between the County, outside auditors, and government regulatory agencies in providing the required information and ensuring that proper information is maintained for historical purposes.
Consulting with and advises other County staff and representatives of other public agencies regarding financial policy issues and participates in the development of these policies affecting Countywide standards and programs.
Acting as the Controller- Treasurer in his/her absence.
THE IDEAL CANDIDATE
THE IDEAL CANDIDATE will have knowledge of principles and practices of organization, management, and supervision of personnel, labor relations and budgeting, as well as advanced governmental accounting, auditing, and fiscal control systems. Knowledge of public finance practices, specifically as they relate to county government and related entities, will be applicable.
Characteristics of the ideal candidate include:
Experience with large-scale system implementations and financial technology. The Agency is considering a new Enterprise Resource Planning (ERP) system to replace the County's legacy financial management system.
Demonstrated professional experience working within the complexities of larger government agencies comparable to County of Santa Clara.
Experience and resolve to provide clear vision and ongoing direction of operations for the Department.
Political astuteness, capable of mediating professional staff concerns and political concerns, and comfortable with significant, regular interaction with executives and managers.
Minimum Qualifications:
Bachelor's Degree, preferably with a concentration in Accounting or Business Administration; and
Five (5) years of increasingly responsible auditing and general and financial accounting experience in a large organization or governmental agency, three (3) years of which must be equivalent to a Controller-Treasurer Division Manager, managing the operations of a major division or complex business, including directing accounting, auditing, and financial reporting.
Governmental accounting experience is required, and possession of CPA certificate is highly desirable.
RESOURCES
Santa Clara County Website www.sccgov.org
About Santa Clara County www.sccgov.org/sites/scc/pages/ about-the-county.aspx
San Jose Neighborhoods www.sanjose.org/neighborhoods
Housing http://www.sccaor.com/housing-stats/
Schools publicschooldirectory.sccoe.org/
San Jose Convention and Visitors Bureau http://www.sanjose.org/
Santa Clara County Parks www.parkhere.org
COMPENSATION & BENEFITS
The salary for the position is $154,095.48–$197,737.49 annually, dependent upon qualifications.
The County provides a generous Executive Management benefit package:
Membership in California Public Employees' Retirement System (CalPERS)

Note: For new PERS members, salaries above a limitation imposed by federal law (current limit per IRS is $124,180):(1)neither the County nor the employee will make contributions to PERS on the portion of salary that exceeds the limit; and (2)the portion of the wage that exceeds the limit is not used by PERS to calculate the retirement benefit. If you were a member prior to January 1, 2013, the limit is$280,000 for 2019. Limits subject to change.

Health Insurance: Kaiser, HealthNet, or Valley Health Plan
Dental & Vision Insurance: Single and family premiums fully paid. Delta or Liberty Dental / VSP Plan
$200,000 Double Indemnity Term Life Insurance coverage paid by the County
Annual Leave: 36 days per fiscal year
Annual Leave "Cash-Out" Program

Note: New hires between January 1st to December 31st2020 will be eligible for cash-out opportunity starting January 2021.

Administrative Leave: 36 days per calendar year
12 paid holidays per calendar year
Administrative Leave
Deferred Compensation plan available (Fidelity-457) Relocation assistance available
Employee assistance Program (Employee and Family) Dependent Care Assistance Program
Health Flexible Spending Account
VTA Smart Pass Clipper Card
A robust Wellness Program, including gym discounts
APPLICATION PROCESS
To apply for this position, please visit koffassociates.com/jobs/
Please submit, in PDF format, a cover letter, resume and application form.
The deadline to apply for this position is MONDAY, JUNE 15
Email questions to: recruiting@koffassociates.com
The County of Santa Clara is an equal opportunity employer encouraging workforce diversity.