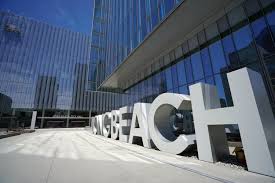 THE COMMUNITY
IDEALLY LOCATED ON THE Pacific Ocean south of Los Angeles, just west of Orange County, Long Beach is the seventh largest city in the State of California. The City has been referred to as the "most diverse city" in the country by USA Today and one of the Best Communities for Young People two years in a row. Offering all the world class amenities of a large metropolitan city, coupled with its strong sense of community and pride, Long Beach is one of the most vibrant communities in the country.
With its ideal location in Southern California, year-round comfortable climate, healthy business environment and far ranging cultural pursuits, the City is alive with activity. Long Beach is home to an abundance of cultural and recreational options. Expansive beaches, three marinas, five golf courses, the Aquarium of the Pacific, Queen Mary and the annual Grand Prix of Long Beach serve to draw 5.5 million visitors a year.
The City's full-service commercial airport has preferred flight schedules, carriers, and an overall accessibility that makes it the travel friendly alternative to other Southern California airports. In addition, Los Angeles' rail transit system, the most used light rail system in the country, connects the city to the entire region. Long Beach continues to make significant investment in its parks, beaches, streets and other amenities (including a new city hall) indicative of financial stability and the health of the City.
The City is home to California State University, Long Beach which is the second largest university in the state and was ranked the No. 3 best–value public college in the nation. Numerous other major universities and community colleges are within short driving distance to include UCLA, USC, Pepperdine University and Long Beach City College. Serving the K-12 student population, the Long Beach Unified School District consistently ranks among the Top 10 urban school districts in the country.
CITY GOVERNMENT
LONG BEACH IS A full-service Charter City governed by nine City Council members who are elected by district and a Mayor that is elected at-large. Elected officials also include the City Attorney, City Auditor, and City Prosecutor. The Council Members and the Mayor are subject to a two-term limit, which allows them to serve for a maximum of eight years. The City Council appoints a City Manager and a City Clerk. The City Manager is responsible for the efficient administration of all City departments, excluding those under the direction of a separately elected official, Board or Commission. Long Beach is a full service City providing all traditional public services. In addition to its traditional services, Long Beach also maintains one of the world's busiest seaports, which serves as a leading gateway for international trade.
The City also has its own full-service commercial airport, a Gas & Oil Department, and is one of only three cities in California with its own Health Department. More than 6,000 full and part-time employees support municipal operations with the majority being represented by eleven employee associations. To learn more about the City of Long Beach, go to www.longbeach.gov
THE DEPARTMENT
THE DEPARTMENT OF FINANCIAL Management administers the financial affairs of the City and provides related services to citizens, elected officials, and City departments. The Department is charged with managing revenues, expenditures, purchasing, accounting, budgeting, investments, cash management, and debt issuance and management. With a staff of approximately 240 employees, the Department includes the Bureaus of: Administrative Services, City Controller, Budget Management, Commercial Services, City Treasurer, Business Services, Fleet, and Financial Controls.
THE POSITION
THE PURCHASING AGENT (OFFICER), an at-will management position, oversees and strengthens the day to day operations of the Purchasing Division. This Division is responsible for managing purchasing processes and development of related policy throughout the City (exclusive of the Water and Harbor departments). The Division either directly manages purchasing activities or sets the policy and procedures that others must follow, and provides review and control over all proposed purchases.
The Purchasing Agent directs the activities of the buyers and other support staff and reports to the Purchasing and Business Services Manager, who in turn reports to the Director of Financial Management. This Purchasing Agent opening presents a rare and valuable career growth opportunity for the successful candidate. Management and staff throughout the City's diverse operations work in a highly collaborative fashion to accomplish City goals, and the Purchasing Agent will benefit from these partnerships and deep exposures within a large, full-service municipality. The recent launch of the City's new financial system provides the perfect opening to introduce improved business processes and conduct a "reset" with internal customers through fresh training on foundational purchasing concepts and best practices. The Purchasing team possesses strong technical experience, good judgment, fresh ideas, and a willingness to implement change. Through the combination of these unique factors, the successful candidate will arrive at the perfect place and time to lead this organization to the next level and solidify the City's position as a world-class procurement organization.
Developing policies and procedures to ensure a consistent approach across all City procurement
channels.
Improving internal and external customer service as well as the quality of procurements, documented via the development and tracking of appropriate performance measures.
Improving operating departments' understanding of the overall purchasing processes and their roles and responsibilities through training and outreach.
Increasing engagement of the local business community in City procurements through innovative marketing, outreach, and process improvements.
THE IDEAL CANDIDATE
THE IDEAL CANDIDATE will be a strategic, technical expert with excellent managerial skills and a strong service orientation; and be a team-player and relationship builder who is able to build consensus and facilitate partnerships with staff, executive leadership, and other key stakeholders. Excellent verbal communication and writing skills are needed to establish written process and procedures and purchasing training materials, and to clearly communicate department goals, policies, and initiatives. Flexibility and strong interpersonal skills are required to collaborate on recommendations, procurement options and solutions when obstacles are presented. The selected candidate will have a big picture perspective, be accurate and detailed, avoid technical mistakes, and be able to coach and mentor a team of up to eight buyers and administrative support staff.
The Successful Candidate:
Has a broad staff development understanding, from training to discipline, to successfully manage a diverse team with a challenging workload.
Is a creative thinker and problem-solver who is comfortable developing new policies and procedures reflective of the needs of a complex and partially decentralized organization. Will be comfortable working with staff and managers at all levels.
Will enjoy working in an informal work environment, which relies significantly on relationships as well as traditional organizational structures.
Has the ability to develop relationships to improve processing times and eliminate delays in processing sensitive or urgent projects.
Will be able to handle significant challenges, both of a longer-term nature and immediate normal day-to-day issues.
Will be able to continually re-prioritize and determine needs to focus the division's resources on its core mission.
Will be able to oversee preparation of purchasing information for City Council meetings, answer questions, and make any necessary presentations to City Council and the public.
Will develop a strong partnership with the Labor Compliance Officer to support implementation of the Long Beach Small Business Enterprise (SBE) Ordinance, Equal Benefits Ordinance (EBO), Disadvantaged Business Enterprise (DBE) program, Project Labor Agreement (PLA), HUD Section 3 program, State and Federal prevailing wage requirements, and other compliance areas.
Will encourage and grow participation by Long Beach businesses in City procurements.
Will work to foster and develop relationships with other local and regional agencies to maximize the leverage on pricing or service delivery in the marketplace on behalf of all internal customers.
Key Competencies & Characteristics:
Creative and visionary leadership.
Ability to clearly articulate rules and requirements, but willing to assess possible options and solutions.
Excellent verbal, written, and interpersonal communication skills; able to encourage cooperation, foster dialogue, and build rapport.
Strong customer service and business acumen, with the ability to carefully evaluate and improve the department's efficiency, effectiveness, and productivity.
Understanding of the culture of organizations and be sensitive to the people as well as the overall organizational structure.
A style of management that includes honest dialogue, provides structure and support, and allows for employee growth and development, and respectful interaction and team building.
A motivated, high performer with a willingness to teach, mentor, and who is focused on delivering positive outcomes and excellent customer service.
Calm under pressure, possessing a positive attitude.
An active listener.
MINIMUM QUALIFICATIONS
Minimum of six years of paid, full-time purchasing experience, two years in a supervisory capacity.
Bachelor's degree in business or public administration, or closely related field; or, an equivalent combination of education and related experience.
Desirable Qualifications:
Two years of governmental purchasing experience.
Training and/or certification in purchasing and purchasing management, such as Certified Public Purchasing Officer (CPPO), Certified Professional Public Buyer (CPPB) or Certified Purchasing Manager (CPM), or a Management Certificate in Public Procurement (MCPP)
Experience in fleet purchases, capital project construction bidding, and professional services RFPs and demonstrated ability to manage a purchasing operation and associated staffing. Familiarity and experience with prevailing wage, DBE, Section 3, SBE, and project labor agreements (PLA).
Excellent communication skills, both oral and in writing, including the ability to present to the public and at City Council meetings.
Work experience in a comparable sized agency with similar complex and diverse operations.
COMPENSATION&BENEFITS
The annual salary for this position is expected to be in the $115,000 to $128,000 range depending on experience and qualifications.
RETIREMENT: City offers CalPERS with a benefit of 2.5% @ 55 for Classic members or 2% at 62 for new members as defined by PEPRA, subject to the limitations set by PERS. Employee pays the employee portion. The City also participates in Social Security.
VACATION: 12 days (96 hours) after one year of service; 15 days (120 hours) after four years, six months of service; 20 days (160 hours) after 19 years, six months of service.
EXECUTIVE LEAVE: Forty (40) hours per year.
SICK LEAVE: One day (8 hours) earned per month; unlimited accumulation; conversion upon retirement to cash credit toward health and/or dental insurance premiums, or to pension credits.
HOLIDAYS: Nine (9) designated holidays per year, plus four (4) personal holidays (8 hours per holiday).
TRANSPORTATION AND TECHNOLOGY ALLOWANCES
HEALTH INSURANCE: Two plans are available: one HMO, and one PPO plan. The City pays major portion of the premium for employee and dependents.
DENTAL INSURANCE: Two dental plans are available for employees and dependents.
LIFE INSURANCE: City-paid term life insurance policy equal to three times annual salary to a maximum of $500,000.
DISABILITY: City-paid short-term and long-term disability insurance.
MANAGEMENT PHYSICAL: Annual City-paid physical examination.
DEFFERRED COMPENSATION: Available through ICMA Retirement Corporation (ICMA-RC).
APPLICATION PROCESS & RECRUITMENT SCHEDULE
The final filing date for this position is SUNDAY, MAY 17, 2020. To be considered, please submit a cover letter and, résumé. Résumés should reflect years and months of all positions held, as well as the size of staff you have managed.
Candidates with the most relevant qualifications will be invited to participate in a panel interview. Finalist may be required to participate in a written test and/or presentation, as determined by the City.
This recruitment may be extended if there are not a sufficient amount of qualified applicants by the May 17 filing date.
Koff & Associates
2835 Seventh Street
Berkeley, CA 94710
The City of Long Beach is an Equal Opportunity Employer and values diversity at all levels of the organization.