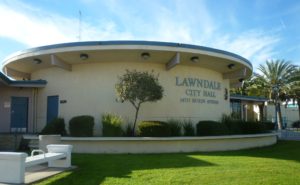 The Heart of the South Bay
LAWNDALE IS CENTRALLY LOCATED in the Centinela Valley of Los Angeles County, approximately fifteen miles southwest of downtown Los Angeles and five miles east of the Pacific Ocean. Lawndale is an urbanized area of predominately single-family homes, encompassing 1.9 square miles. The City enjoys a moderate climate with a yearly average temperature of approximately 68 degrees. The City of Lawndale was incorporated on December 28, 1959 as a general law city. The population is approximately 38,000. The City has a council-manager form of government with an elected Mayor, four Councilmembers, and a full-time appointed City Manager. The City is a contract city with police and fire services provided by the County of Los Angeles. There are about 60 full and part-time City staff to provide other City services. To learn more about Lawndale, visit the City's website at: www.lawndalecity.org
THE DEPARTMENT
THE PUBLIC WORKS DEPARTMENT of the City of Lawndale is responsible for design, construction, operation, and maintenance of City streets, sidewalks, facilities, and parks. Its professional, technical, clerical, and skilled operations fall within four service areas: Administration, Engineering, Street Maintenance, and Grounds Maintenance. Contract services include: landscape maintenance, street sweeping, solid waste and recycling, storm drain maintenance, traffic striping & markings, traffic signal operation & maintenance, bridge soffit light repairs, traffic signal maintenance, flood control, sewer maintenance, and industrial waste inspections. The Department's responsibilities include: developing and managing the fiscal operations of the department; routine maintenance of City streets and sidewalks; custodial, carpentry, plumbing, electrical, and painting services; providing project management services for the design and construction of the City's Capital Improvement Program. In addition, the Department maintains the integrity of public right-of-way through inspection services for repairs, construction, and other work in the right-of-way.
THE POSITION
THE DIRECTOR OF PUBLIC WORKS POSITION supervises, plans, organizes, directs and administers the activities and operations of the City's Public Works Department. The position has full responsibility for providing direction and oversight for the Department's key operational areas, which includes: engineering; street, building and landscape maintenance and contract administration. Essential responsibilities and duties may include, but are not limited to, the following: This is an "at will" exempt department head position and serves as a member of City's Central Management Team (executive team).
Develop and monitor the Department's work plans;
Delegate work activities, projects, and programs, and monitor work flow;
Review and evaluate work products, methods, procedures, and processes;
Oversee and monitor the Department's budget and direct the forecast of additional funds needed for staffing, equipment, materials and supplies;
Monitor and approve expenditures; implement mid-year adjustments; oversee public works capital projects, design and construction, quality control and budget administration;
Select, train and evaluate personnel;
Represent the City in outside community and professional groups and committees;
Analyze and manage the Department's various grant programs that support capital improvement projects including Federal, state, and local sources; seek and earn funds where necessary;
The incumbent in this position will exercise a high level of judgement in guiding the engineering function so it continues to fulfill its goals and meet performance objectives, including reviewing planning documents, parcel maps, legal descriptions, and land development processes;
Negotiate, execute and administer a variety of contracts and agreements;
Review and interpret government regulations and requirements;
Research and prepare technical and administrative reports and studies and present to the City Council, Traffic Committee and Planning Commission in a digestible format;
Prepare written correspondence; and
Perform other duties as assigned.
This is an "at will" exempt department head position and serves as a member of City's Central Management Team (executive team).
THE IDEAL CANDIDATE
THE CITY OF LAWNDALE seeks a dynamic leader with strong management, organization and
communication skills with a proven track record of effectively overseeing capital improvement
projects and public works operations. This position requires a customer service driven
professional with integrity, dedication and is innovative. The ideal candidate should demonstrate
priority to achieving specific strategic plan objectives to improve the overall performance and
effectiveness of the Department, while providing exemplary municipal services to City residents,
businesses, and visitors.
The ideal candidate should be a proactive collaborator who can think analytically and act
strategically—an energetic individual who communicates openly and values the experience and
knowledge of the City's Central Management Team. The ideal candidate must be flexible and
able to adapt to change. An individual with strong business acumen who is politically astute, yet
apolitical, is sought.
MINIMUM QUALIFICATIONS
A bachelor's degree from an accredited college or university with a major course work in civil
engineering or related field is a requirement. Six (6) consecutive years of increasingly responsible
experience managing diverse public works operations, including two (2) years supervising,
managing, and/or directing a division or department. An equivalent combination of education and
experience that demonstrates possession of the requisite knowledge, skills and abilities is qualifying.
Possession of a Class C Driver's License in the state of California is required. A valid registration as
a Professional Engineer is required. Land surveyor license and a master's degree is highly desirable.
COMPENSATION+BENEFITS
Director Of Public Works/City Engineer salary: $124,860–$151,752 per year.
RETIREMENT. The City contracts with the California Public Employee's Retirement System (CalPERS), in compliance with Public Employees' Pension Reform Act 2013 (PEPRA). The City offers 2%@55 formula for "classic members" and 2% @ 62 formula for "new members." The City does not participate in Social Security.
BENEFITS. The City provides extensive health benefits for fulltime employees, through a flexible benefit spending plan coordinated with IRS Section 125; and wellness reimbursement program ($100 per fiscal year).
WORK SCHEDULE. The City offers varying work schedules to include 5/40, 9/80 and 4/10 work schedule. City Hall is open Monday through Thursday 7 a.m. to 6 p.m., although many facilities operate during
evenings and weekends.
LEAVES. 6 paid Holidays plus varying number of Floating Holidays arising out of 4/10 plan provisions; 10 days of Vacation Leave; 8–10 hours per month of Sick Leave; 89 hours per fiscal year of Administrative/ Management Leave.
LIFE INSURANCE. All full-time employees receive a life insurance policy.
LONG TERM DISABILITY. Employees are covered by disability insurance which will provide income for an employee who is totally disabled from injury or accident.
DEFERRED COMPENSATION. The City offers various programs that allow full-time employees to voluntarily defer pre-tax earnings into a savings account. City contribution match up to $7750 for Central Management Team ADDITIONAL COMPENSATION. PE Certification Pay (5%); Bilingual pay ($45 per month); Car Allowance ($225 per month); and Tuition Reimbursement ($1,800 per fiscal
year).
CREDIT UNION. Members have access to loans and low interest rates and good savings programs.
HIRING PROCESS
FOLLOWING THE CLOSING DATE, applications and resumes will be screened according to the qualifications outlined above and the most qualified candidates will be invited to an on-site interview. The on-site interviews are tentatively scheduled to occur the week of November 2nd.
This position is "at-will," serving at the pleasure of the City Manager, and subject to discharge without notice and right to appeal. Candidates chosen will be required to pass a physical examination (which includes a drug/alcohol test) and a background investigation (which includes fingerprinting). Candidates must be able to provide documentation which authorizes their legal right to work in the United States in compliance with the Immigration Reform and Control Act of 1986 upon hire.
The City of Lawndale is an Equal Opportunity Employer which does not discriminate against applicants based on their race, skin color, gender, religion, sexual orientation, or disability. Please notify the Personnel Department prior to the final filing date should you require special accommodations in the testing process. All employees are designated disaster service workers in the event of an emergency or natural disaster
that threatens the life, health and/or safety of the public.
TO APPLY:
Email questions to: recruiting@koffassociates.com
Applications are due by MONDAY, OCTOBER 12.