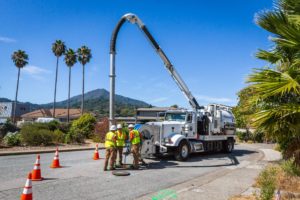 Ross Valley Sanitary District
General Manager
Link to brochure:
THE OPPORTUNITY
The General Manager of Ross Valley Sanitary District (RVSD) serves under the direction and supervision of an elected Board of Directors. S/he is responsible for planning and managing the affairs of the District and directs staff in all functions and operations.
The General Manager represents Board policy and programs with employees, community organizations, and the public. S/he manages all labor and management activities, including reviewing all budget requests and making recommendations to the Board on final expenditure levels.
The General Manager is responsible for providing direct supervision to the management team: the Operations and Maintenance Manager, the Infrastructure Assets Manager, and the Business and Administrative Services Manager.
IDEAL CANDIDATE PROFILE
The ideal candidate will:
Understand the history and recent achievements and successes of the District;
Study and be comfortable with the infrastructure asset management plan;
Have the interpersonal ability to partner with administrative and field staff equally, fostering an environment of communication and openness;
Be competent and experienced in working with an elected Board of Directors;
Implement the District's Strategic Plan established by the Board of Directors;
Promote strong customer service;
Work collaboratively with other local public agencies;
Be adept at representing the District in labor negotiations; and
Possess outstanding leadership and communication skills.
EXPERIENCE & QUALIFICATIONS
To be considered, candidates must possess the following:
A Bachelor's Degree from an accredited four-year college or university with major coursework in engineering, construction, business, or management (Master's Degree in a related field is highly desirable) ;
Extensive work experience in a management or administrative position requiring responsibility of the formulation and implementation of projects, fiscal systems, and service within the last five (5) years;
Knowledge of public administration, including analysis, fiscal planning and control, and policy and program development;
Knowledge of municipal accounting, budgeting, and financial recordkeeping;
Knowledge of construction codes, practices, and methods, as applicable to the construction of public and private sewers, collection system pump stations, and related infrastructure;
A working knowledge of engineering principles related to the wastewater industry.
COMPENSATION & BENEFITS
The salary range for this position is $180,000 to $220,000 per year.
The District offers a generous and competitive benefits package including:
Medical: The District provides the CalPERS medical insurance program. It will contribute up to 80% of the premium.
Dental: The District shall provide a dental benefit at no cost to the employee.
Retirement: CalPERS formula, either Classic member 2.7% at age 55 or New member 2% at 62, depending on individual eligibility.
Vacation Leave: Employees shall be entitled to accrue annual vacation leave by years of continuous service. Starting with 80 hours in the first year, and increasing to 96 hours in the third year, and 120 hours in the fifth year.
APPLICATION PROCESS
To apply for this opportunity, please visit the Koff & Associates website at https://www.koffassociates. com to download an application. Please then send a cover letter, résumé, and signed application by email to infokoff@koffassociates.com.
If you have any questions regarding this opportunity, please contact Richard O'Donnell at (510) 658-5633.
The deadline to apply is Monday, August 27th.