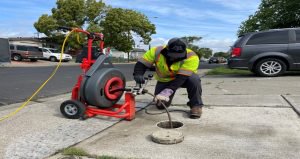 The City of Fairfield Water/Sewer Division is recruiting for Water Distribution Operators I-IIIA. This recruitment will establish an eligibility list to fill current and future Water Distribution Operator positions. Entry-level welcomed!
Description
Water Distribution Operators perform a variety of semi-skilled and skilled water and sewer maintenance work, contributing to the Water/Sewer Division's mission of ensuring the Fairfield community receives clean, quality water to drink, bathe and use for processing!
Water Distribution Operators work primarily outdoors in conditions which may result in exposure to chemicals, vibrations, raw sewage, toxic gasses, asbestos, high voltage, pesticides, natural gas lines, dead animals, variable weather and the hazards associated with working around traffic and heavy equipment.
The position is subject to emergency callouts. Positions in the Water/Sewer Division have mandatory rotational weekend and holiday standby duty. When on-call, a 30 minute response time to be on site with the City of Fairfield on-call vehicle, is required.
This physically demanding role requires lifting up to 100 pounds, standing, stooping, reaching, crawling, and climbing, working in confined spaces; manual dexterity is required.
Please check the Job Brochure and Apply Here links for more detailed information!