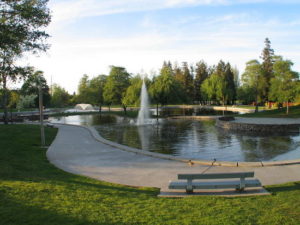 THE COMMUNITY
THE CITY OF SANTA CLARA (pop. 129,604) lies at the center of the Silicon Valley just 45 miles south of San Francisco. Incorporated in 1852, it is a city rich with history. The eighth of 21 California missions is located on the grounds of Santa Clara University, the oldest institution of higher learning in California.
The community is characterized by a small-town feel, while continuing to support high-tech businesses and a prosperous industry. With a strong high-tech presence in the area, many of the world's largest technology corporations are based in Santa Clara resulting in a population that nearly doubles during the day. Intel, Applied Materials, Agilent Technologies, Marvell and NVIDIA are just a few of the companies that have established their headquarters in Santa Clara. The City of Santa Clara also has three advanced education institutions: Santa Clara University, Mission College, and University of California, Davis extension. Westfield Valley Fair shopping mall is co-located in Santa Clara and distinguished as the Silicon Valley's premier shopping mall, which is also one of the largest malls in the United States and has one of the highest sales volumes in California.
The City of Santa Clara enjoys over 300 days of sunshine annually and beautiful tree-lined streets offer residents a wide array of pleasant neighborhoods. Residents have access to an abundance of cultural and recreational opportunities, including California's Great America theme park, Triton Museum, theater productions, and a summer concert series. Santa Clara amenities also include Levi's® Stadium, the home of the 49ers National Football team, a Convention Center, numerous community and recreation centers, an International Swim Center, retail shopping, restaurants, and medical facilities. All this coupled with award-winning schools, strong small businesses, and a low crime rate help make Santa Clara a very attractive place to live and work. Overall, residents feel very positive about the quality of life in Santa Clara—according to surveys conducted in 2018, 90% rated the City a 4 or excellent place to live.
LIKE MANY CITIES IN THE Silicon Valley, Santa Clara is experiencing an unprecedented level of development. Related Santa Clara (also known as City Place), a 240-acre complex of mixed-use development across from Levi's® Stadium, is being developed by Related California/Related Companies and is the largest development in Silicon Valley history. Related Santa Clara will consist up to 9.16 million gross square feet of office buildings, retail and entertainment facilities, residential units, hotel rooms, surface and structured parking facilities, new open space and roads, landscaping and tree replacement. Currently, this development is in pre-construction phase and will transition to construction within a year. For more information, visit: bit.ly/2Gv5LjW.
CITY GOVERNMENT
SANTA CLARA IS A FULL-SERVICE Charter City operating under a Council-Manager form of government. The City Council consists of a Mayor, elected citywide, and six Council Members serving four-year terms. The Police Chief and City Clerk are also elected at-large.
The City Manager, City Attorney, and City Auditor are appointed by the City Council. The City Manager is the Chief Executive Officer for the City, Silicon Valley Power, Stadium Authority and the appointing authority of employees. The City's total workforce is 1,150.75 FTEs and the 2019-20 fiscal year budget is $955 million with $132.4 million in Capital Improvement Projects. In addition to the general municipal services conventionally provided by a local government, Santa Clara operates three additional lines of public service, either through a DBA or separate public entity: (1) Silicon Valley Power, a publicly owned electric utility; (2) Santa Clara Stadium Authority, the public agency charged with oversight of the Levi's Stadium; and, (3) Santa Clara Convention Center, a city-owned facility operated by a third party management agreement with tourism attraction services supported by a Tourism Improvement District. Combined, the annual operating fiscal portfolio for these services are over $1.3 Billion. Detailed information on the City of Santa Clara can be found at: santaclaraca.gov/.
LEADERSHIP + CULTURE
DEANNA SANTANA BEGAN her tenure as Santa Clara's City Manager in November 2017. Nationally recognized as a progressive leader in the profession, the Council was attracted to her leadership track record as a reformer and turnaround specialist with unique expertise in city management, Silicon Valley development, and professional sports team relations. Prior to arriving in Santa Clara, she served as City Manager in Sunnyvale and Oakland following her local government executive-level career in the San José's City Manager's Office. Deanna is known for being an inspiring visionary, results-oriented leader and empowering manager who holds organizations and people to high standards. In addition, she has a consistent history of attracting some of the best and brightest talent from both public and private sectors, with a strong focus on succession planning and mentorship.
THE DEPARTMENT
THE DEPARTMENT OF PUBLIC WORKS is dedicated to providing the highest quality public works services to the residents of Santa Clara, the development community and our customers in a responsible and efficient manner.
The Department designs, constructs, maintains and improves various components of the City's infrastructure and provides quality, cost-effective, timely services to the residents and businesses of Santa Clara. The Department is responsible for a wide variety of programs throughout the City which include design, construction management, development review, encroachment permitting, traffic engineering, stormwater pollution prevention, inspection and maintenance of City streets, bridges, storm drain systems, traffic signal systems, building facilities, street trees, and landscaping.
Santa Clara Mission Statement
The Mission of the City of Santa Clara is to promote a living and working environment that allows for the best quality of life by serving the community with resourceful, efficient, progressive, and professional leadership.
THE POSTIION + IDEAL CANDIDATE
THE TRANSPORTATION MANAGER will be responsible for direct supervision of the Traffic Engineering Division in the Department of Public Works. The Traffic Engineering Division's mission is to provide safe and efficient movement of pedestrian, bicycle, transit and vehicular traffic in Santa Clara. Other responsibilities include:
Increasing safety for all modes of transportation
Reducing delays for all users with new innovative technologies
Obtaining and managing transportation grants
Designing, installing, maintaining, and operating all City traffic infrastructure
Supporting and coordinating with regional transportation initiatives
THE INCUMBENT IN THIS POSITION will exercise a high level of judgement in guiding the Traffic Engineering Division so it continues to fulfill its goals and meet its performance objectives. Key focus areas include:
Analyze and manage the Department's various revenue programs that support Traffic Engineering including Federal, state, and local sources such as fees, taxes, and grants.
Lead and manage the City's role in regional transportation initiatives and projects such as BART Phase II Extension, Caltrain, and High-Speed Rail.
Improve customer service and responsiveness regarding traffic inquiries/complaints.
Modernize the City's traffic management systems to take advantage of new technologies such as Adaptive Signal Timing.
Implement multimodal improvements with Santa Clara including pedestrian, trail, and bicycle improvements/programs.
The incumbent will report to the Assistant Director of Public Works. For a full job description, visit: www.governmentjobs.com/careers/cityofsantaclaraca?keywords=traffic%20engineer
THE IDEAL CANDIDATE WILL BE a proven professional who enjoys working in a fast-paced environment. The Transportation Manager will need to monitor and direct City transportation projects while coordinating with regional transportation projects such as BART to Santa Clara and the High-Speed Rail project. Additionally, the ideal candidate will focus on modernizing the City's traffic management systems to take advantage of innovative technologies:
A strong infrastructure planning or traffic engineering background and has a demonstrable understanding of transportation planning both long- and short-range.
Effective communication skills to convey information and express thoughts and facts clearly, orally and in writing.
The ability to quickly analyze situations, identify the most critical issues, and develop priorities and appropriate course of action.
Comfort with interaction with the development community and other governmental agencies. The political astuteness to understand the perspective of others and the ability to forward the interests of the City and its customers in negotiating and in developing agreements.
Experience, skill, and passion around building and enabling business process improvements.
The ability to identify opportunities and pinpoint problems within the Department to maximize efficiency and deliver quality customer service. A work history of improvement/changes that increase efficiency and quality of service. Track record of engaging employees in process improvement efforts.
Skill in listening to and engaging staff. Can set the tone and culture to build a high-functioning, motivated workforce, and mentor and develop staff to help them grow.
EDUCATION + EXPERIENCE
Education and experience equivalent to graduation from college with a bachelor's degree in Civil Engineering; and
Four (4) years of increasingly responsible experience in traffic engineering office and field work, at least two years of which have been as an engineer in a management capacity.
A Master's Degree in Transportation Engineering is desirable.
LICENSE/CERTIFICATIONS
Possession of a valid Class C driver's license is required at the time of application and for the duration of employment.
License as a registered Civil Engineer or Traffic Engineer from the State of California is required at time of application.
COMPENSATION + BENEFITS
The salary range for this position is $173,988 – $225,168 per year. The City provides a competitive benefits package, including:
RETIREMENT. PERS 2.7% at 55, single highest year, for "Classic" CalPERS members. (Employees who have never been a member of CalPERS or a reciprocal agency or who have had a break in service of 6 months or more from a CalPERS/reciprocal agency will have 2.0% at 62, highest three-year average final compensation in accordance with PEPRA legislation).
HEALTH INSURANCE. Choice of health insurance plans provided through CalPERS health, with a health allocation of up to $970.56 per month, based upon plan enrollment. Employee pays for additional premiums above the health allocation.
MEDICARE (FICA). Employee pays 1.45% (Medicare) of gross pay up to $200,000 in base wages. For wages paid in excess of $200,000 a calendar year, employee pays 0.9% additional Medicare tax for 2019.
DENTAL & VISION INSURANCE. City pays employee-only lowest cost plan.
HOLIDAYS. The City observes thirteen (13) paid holidays annually.
PERSONAL TIME. Vacation is accrued initially at the rate of two weeks per year with amounts increasing up to four weeks after 15 years of service. Management Leave of 120 hours is granted per calendar year. If hired after July 1st, 60 hours is granted in the first year. Sick Leave is accrued at the rate of approximately 8 hours per month.
DEFERRED COMPENSATION. The City offers an optional 457 Plan.
VOLUNTARY EMPLOYEE BENEFICIARY ASSOCIATION (VEBA). City contributes $50 per month toward employee's account.
LIFE INSURANCE. City pays for $50,000 of Basic Life Insurance coverage
EMPLOYEE ASSISTANCE PROGRAM. The City provides a comprehensive range of services through the EAP.
VEHICLE ALLOWANCE. The City provides a vehicle allowance of $200 per month.
CELL PHONE/SMART PHONE STIPEND. $80 per month in lieu of carrying a City-issued cell phone.
For more information on employee benefits, visit the City's benefits website: https://www.santaclaraca.gov/Home/ShowDocument?id=63989
APPLICATION PROCESS + RECRUITMENT SCHEDULE
To apply for this position, please visit: koffassociates.com/category/opportunities/
Please submit, in PDF format, a cover letter, resume, an Employment Application Form, and a minimum of five professional references included in your cover letter. References will not be checked without notifying you first nor without your permission. Include their contact information and your working relationship to them.
**Applications are due by MONDAY, May 18th.
SELECTION PROCESS
Resumes will be screened in relation to the criteria outlined in this brochure. Candidates deemed to possess the most relevant qualifications will be invited to participate in an interview with the consultant and then the most qualified candidates will be invited to participate in a selection process that will occur in Santa Clara. An appointment will be made following the completion of in-depth reference and background checks to be coordinated with the successful candidate.