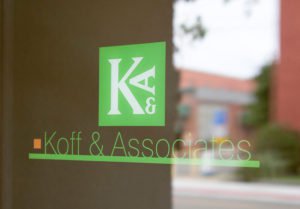 About Us
Koff & Associates is a full-service human resource consulting firm specializing in the areas of recruiting and compensation and classification, for public sector clients. We help cities, counties, special districts, and other public agencies address the people side of their business.
K&A Recruiting specializes in executive and hard-to-fill placements. Our recruitment projects are comprehensive, from the development of an ideal candidate profile all the way to offer negotiation and background checks.
We tailor our recruitment method to best match the needs of our clients in a forward-thinking manner to develop the most diverse and robust candidate pools in our industry.
The Position
We are seeking a full-time Recruitment Manager who is interested in helping expand our recruiting practice. This position will play an integral role as part of a team and will be client facing – including interfacing with government agency leadership teams, boards, and councils. While the Recruiting Manager will function as an Executive Recruiter, the role also requires rolling up the sleeves to write recruitment ads, such as brochures, posting ads, performing strategic candidate sourcing, candidate screening, onsite facilitation of interviews, and process coordination.
This position will work closely with our team and candidates to ensure a comprehensive and positive recruitment experience for all. The successful candidate will have the ability to maintain our standard for client facing quality as the volume of work increases, and to help us grow.
This position will also have a strong focus on sourcing and organizing candidate pipelines as well as overseeing the work of others on the team.
Minimum Qualifications
5+ years of professional experience in recruiting.
Experience or enthusiasm for working in the public sector is highly desirable.
A natural ability to network and engage with people from various backgrounds.
The ability to work directly with clients and executive-level stakeholders while driving the critical delivery of high-quality service and high-quality candidates.
The ability to deliver a superb candidate experience that begins with the initial messaging correspondence all the way to closing the offer.
The skill set to manage day-to-day recruitment strategy as well as operations, including managing the recruitment budget.
A BS/BA degree from an accredited 4-year university.