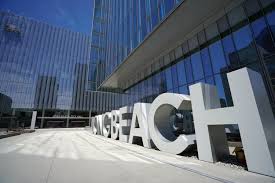 THE COMMUNITY
Ideally located on the Pacific Ocean south of Los Angeles, just west of Orange County, Long Beach is the seventh largest city in the State of California. The City has been referred to as the "most diverse city" in the country by USA Today and one of the Best Communities for Young People, two years in a row. Offering all the world class amenities of a large metropolitan city, coupled with its strong sense of community and pride, Long Beach is one of the most vibrant communities in the country.
With its ideal location in Southern California, year-round comfortable climate, healthy business environment, and far ranging cultural pursuits, the City is alive with activity. Long Beach is home to an abundance of cultural and recreational options. Expansive beaches, three marinas, five golf courses, the Aquarium of the Pacific, Queen Mary, and the annual Grand Prix of Long Beach serve to draw 5.5 million visitors a year.
The City's full-service commercial airport has preferred flight schedules, carriers, and an overall accessibility that makes it the travel friendly alternative to other Southern California airports. Los Angeles' rail transit system, the most used light rail system in the country, connects the city to the entire region. Long Beach continues to make significant investment in its parks, beaches, streets, and other amenities (including a new city hall) indicative of the financial stability and health of the City.
The City is home to California State University, Long Beach which is the second largest university in the state and was ranked the No. 3 best–value public college in the nation. Numerous other major universities and community colleges within a short driving distance include UCLA, USC, Pepperdine University, and Long Beach City College. Serving the K-12 student population, the Long Beach Unified School District consistently ranks among the Top 10 urban school districts in the country.
CITY GOVERNMENT
Long Beach is a full-service Charter City governed by nine City Council members who are elected by district and a Mayor who is elected at-large. Elected officials also include the City Attorney, City Auditor, and City Prosecutor. The Council Members and Mayor are subject to a two-term limit, which allows them to serve for a maximum of eight years. The City Council appoints a City Manager and a City Clerk. The City Manager is responsible for the efficient administration of all City departments, excluding those under the direction of a separately elected official, Board, or Commission.
Long Beach is a full-service City providing all traditional public services. In addition to its traditional services, Long Beach also maintains one of the world's busiest seaports, which serves as a leading gateway for international trade. The City also has its own full-service commercial airport, a Gas & Oil Department, and is one of only three cities in California with its own Health Department. More than 6,000 full and part-time employees support municipal operations with the majority being represented by eleven employee associations. To learn more about the City of Long Beach, go to www.longbeach.gov
The Department
The Jail Division is responsible for functions associated with the housing and caring of prisoners, including booking desk operations, the housing of adult inmates in Long Beach City Jail facilities, Court Affairs, the Court Bailiff Detail, and the Transportation Unit.
Booking Desk
The booking desk serves as the point of intake for adults arrested and brought to the Long Beach City Jail. Over 18,000 prisoners are booked here annually. The booking desk operates 24 hours a day, 7 days a week, and handles all duties associated with prisoner intake and release.
Jail
The Long Beach City Jail is one of California's largest city jails. The jail is a "Type I" facility, which is used for the detention of non-sentenced prisoners for no more than 96 hours excluding holidays. The facility also houses sentenced prisoners who volunteer as "inmate workers".
Court Affairs
The Court Affairs Office is responsible for receiving and processing all subpoenas for legal summons related to department employees. Staff ensure court appearance information is properly entered into the automated court affairs system and updates data as appearance dates and times change. They ensure department employees are notified of subpoenas in a timely manner and appear in court as required. They are liaisons to City Prosecutors, District Attorneys, and Defense Attorneys.
Court Bailiff Detail
The Court Bailiff Detail is responsible for escorting inmates housed in the Long Beach City Jail to the Long Beach Courthouse. They provide courtroom security while the inmates are arraigned. Court bailiffs escort both male and female adult inmates, whose charges range from infractions to felonies, to court.
Transportation Unit
The Transportation Unit is responsible for transporting parolees and subjects arrested on out-of-county warrants to Los Angeles County Jail. Prisoners are transported on a daily basis to all Los Angeles County Jail facilities. This unit transports over 2000 inmates annually. They work closely with the Los Angeles County Sheriff's Department and Long Beach Jail personnel to ensure that all transportation and county booking procedures are followed.
The Position
The Jail Administrator is an at-will management position that ensures efficient Jail services are provided to the Department and its customers. The Jail Administrator is one of 23 division managers (15 sworn and 8 civilian) in the Police Department and is responsible for the City's 202-bed Type I Jail facility. The position is responsible for the health and well-being of the inmates of the Long Beach Jail by effective and efficient use of personnel, financial, and material resources.
The Administrator reports directly to the Deputy Chief of the Support Bureau and is responsible for the operation of Court Bailiff Detail, Transportation Team, Booking Operations, and Court Affairs. The duties of the job include, but are not limited to:
Ensure compliance with Title 15 and 24 Regulations, as required by the Board of State and Community Corrections (BSCC), as they pertain to training, operation, nutrition, medical, and housing guidelines; conduct investigations and audits; review and ensure the proper documentation of all uses of force; ensure all complaints are investigated.
Make recommendations for the effective and professional operation of the Jail Division; supervise the Jail's detention, clerical, and administrative staff; ensure the division's goals and objectives are attained in a timely, cost-effective manner; responsible for researching, developing, updating, and maintaining all divisional policies and standard operating procedures.
Ensure accountability for the knowledge and proper application of all divisional policies and standard operating procedures, all laws, and the rules and regulations of the City of Long Beach and the Long Beach Police Department; serve as departmental representative to all California regulatory/oversight agencies, Grand Jury, and other City and County departments as it pertains to all Jail operations and functions; ensure proper, topical, and timely training for all divisional employees and provide ongoing professional development guidance; observe and evaluate performance of subordinates and document in written performance evaluations; oversee divisional budget and manages scheduling and overtime.
Administer purchasing duties and manage contracted inmate services (food services, medical and health services); gather/analyze data and prepare reports using specialized computer systems for evaluation of divisional operations.
Assess and prioritize risks and help create and apply control and containment measures; inspect, report, and correct all Jail facility safety and security issues.
The Ideal Candidate
The ideal candidate will be a strong manager who will lead by example. He or she will be a detail oriented, hands-on manager, capable of adhering to multiple deadlines in a fast-paced work environment, while maintaining effective working relationships at all levels of the organization. The ideal candidate will be knowledgeable in national best practices related to inmate care and handling, recidivism, mental health, and homelessness. They will be familiar with 21st century policy principles and initiatives. In addition, the ideal candidate will effectively handle competing priorities while acting as liaison with various law enforcement agencies. The successful applicant will be expected to pass a comprehensive background investigation and must possess a valid California Driver License by date of appointment.
Minimum Qualifications
Five (5) years of professional experience in the administration of a jail enforcing Title 15 and 24 Regulations plus at least three (3) years of supervisory or management experience.
A bachelor's degree from an accredited college or university with a major course work in Public Administration, Criminal Justice, Business Administration, or a closely related field is desirable.
Benefits
The mid-point of the annual salary range is $120,000, experience and qualifications will be taken into consideration.
Retirement – City offers CalPERS with a benefit of 2.5% @ 55 for Classic members or 2% at 62 for new members as defined by PEPRA, subject to the limitations set by PERS. Employee pays the employee portion. The City also participates in Social Security.
Vacation – 12 days (96 hours) after one year of service; 15 days (120 hours) after four years, six months of service; 20 days (160 hours) after 19 years, six months of service.
Executive Leave – Forty (40) hours per year.
Sick Leave – One day (8 hours) earned per month; unlimited accumulation; conversion upon retirement to cash credit toward health and/or dental insurance premiums, or to pension credits.
Holidays – Nine (9) designated holidays per year, plus four (4) personal holidays (8 hours per holiday).
Transportation and Technology Allowances
Health Insurance – Two plans are available: one HMO, and one PPO plan. The City pays major portion of the premium for employee and dependents.
Dental Insurance – Two dental plans are available for employees and dependents.
Life Insurance – City-paid term life insurance policy equal to three times annual salary to a maximum of $500,000.
Disability – City-paid short-term and long-term disability insurance.
Management Physical – Annual City-paid physical examination.
Deferred Compensation – Available through ICMA Retirement Corporation (ICMA-RC).
Application Process & Recruitment Schedule
This position is OPEN UNTIL FILLED. To be considered, please submit a cover letter and resume. Candidates with the most relevant qualifications will be invited to participate in a panel interview.
Please submit, in PDF format, a cover letter and resume. As an alternative, you can mail your cover letter, employment application form, and resume to this address:
Koff & Associates
2835 Seventh Street
Berkeley, CA 94710
Email questions to: recruiting@koffassociates.com
The City of Long Beach is an Equal Opportunity Employer and values diversity at all levels of the organization.