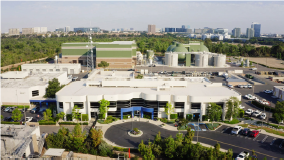 The Ideal Candidate
The position is open until filled with the first review of applications taking place on Monday, May 8, 2023.
The Irvine Ranch Water District is accepting applications for a Collection Systems Manager who will be responsible for managing the daily and long-term operations and maintenance of the sewage collection systems to ensure the District meets all regulatory compliance requirements in a cost-effective manner. The ideal candidate will be familiar with and able to implement progressive, innovative, best-practice technologies for operating, cleaning, and maintaining sewer collection systems. Knowledgeable with linear asset management and maintenance strategies for large linear infrastructure systems. Must be experienced in developing, reviewing, and updating Standard Operating Procedures (SOPs) for equipment operation, performing sewer system and lift station bypasses, and other emergency response tasks. Proficient understanding of the Sanitary Sewer Systems Waste Discharge Requirements (SSS WDR) mandated by the California State Water Resources Control Board for sewer systems.
Please check the Job Brochure for more detailed information!