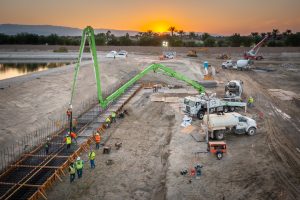 The Opportunity
Under direction, the Assistant or Associate Engineer (Sanitation/Non-Potable) performs complex professional engineering work related to the design and construction of District sanitation facilities and pipelines. Provides project supervision over engineering staff assigned to projects. Duties include prepare and perform contract administration of sanitation construction projects, treatment plants, pipelines and other related projects. This includes executing contract summaries, negotiations in changes of contract scope, monitoring design costs and overall project budget and resolution of claims, disputes and outstanding issues. Performs project management on district sanitation related construction projects.
Under general direction, the Assistant or Associate Engineer (Stormwater/Irrigation) plans, coordinates, and schedules civil engineering work involved in the planning, design, and construction of CVWD Irrigation, Drainage, and Stormwater facilities; and to do related work as assigned.
Please check the Job Brochure for more detailed information!