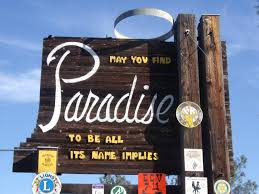 ABOUT THE OPPORTUNITY
THE TOWN OF PARADISE provides a unique, rewarding opportunity to be part of a team rebuilding a community. Paradise is the second largest city in Butte County located in the Sierra Nevada foothills. This is a fantastic place to raise a family, build a business, or just relax for a weekend in the pines. The population of Paradise was 26,572 as of January 2018. On November 8th of the same year, the most destructive wildfire in California State history, the Camp Fire, swept through Paradise destroying approximately 90% of its structures.
Now fifteen months following the fire, there is tremendous momentum and excitement surrounding rebuilding efforts of this resilient community. Policymakers are focused on building standards and fire-resistant strategies. Paradise has received 811 building permit applications to date resulting in 610 being issued. A talented, dedicated and professional staff is committed to assisting the community every step of the way. Collectively, the community, policymakers, and staff are determined to "Make it Paradise" again.
ABOUT THE TOWN OF PARADISE & POSITION
FOUNDED IN NOVEMBER 1979, Paradise is a full-service municipality offering police protection; fire prevention, suppression and medical aid; community development, planning and building safety; public works, capital improvements, and street maintenance; and housing and business development programs. Paradise is run through a council-manager form of city government. The Town Council of The Town of Paradise is the chief policy making body comprised of five members elected at large by the community to four-year staggered terms of office. The Town Manager leads staff in executing the vision and priorities established by the Town Council.
Under general direction of the Administrative Services Director, this newly formed Accountant position performs professional accounting work with a special emphasis on the procurement of goods and services. In addition, the Accountant prepares financial and statistical reports, informs Town staff regarding accounting practices and procedures, and other accounting related tasks.
ABOUT THE TOWN OF PARADISE FINANCE DEPARTMENT
THE FINANCE DEPARTMENT is committed to and is responsible for the Town of Paradise financial transactions and providing timely, accurate, financial reports. The department is dedicated to performing its functions honestly, impartially and with the utmost integrity.
Finance is responsible for the daily and long-term financial transactions of the Town of Paradise. All receipts, expenditures and accounting transactions are posted and reviewed by department staff. The department is also charged with developing and monitoring Paradise's annual operating and capital budgets with total programs and funds exceeding $25 million. The department's professional team has been rewarded for their dedication and attention to detail with a multitude of clean audits from State, Federal and independent auditors.
THE IDEAL CANDIDATE WILL POSSESS:
The ability to quickly analyze information, identify the most critical issues and develop priorities, and appropriate courses of action.
Experience in the procurement of goods and services, including preparing requests for proposals, evaluating responses, and facilitating the execution of contracts.
Skill in using tact, initiative, prudence, and independent judgment within general policy, procedural, and legal guidelines.
The ability to quickly analyze information, identify the most critical issues and develop priorities, and appropriate courses of action.
Experience in using computer systems, software applications, and modern business equipment to perform tasks.
Skill in using tact, initiative, prudence, and independent judgment within general policy, procedural, and legal guidelines.
KEY JOB FUNCTIONS
The Accountant will provide technical assistance in the administration and implementation of the Town's financial, auditing, and accounting programs, including the purchasing of materials, equipment, and services.
Therefore, experience in the following areas will be significant:
Understanding and knowledge of public and governmental accounting and financing.
Payroll and benefits management.
Record keeping principles and procedures.
Excellent customer service.
MINIMUM QUALIFICATIONS
Equivalent to a bachelor's degree from an accredited four-year college or university with major coursework in accounting, finance, business or public administration, or a closely related field and one (1) year of responsible professional public agency accounting or payroll experience.
SALARY & BENEFITS
The salary range for this position is $57,948.80 to $73,944.00 annually, depending on qualifications. Additionally, effective July 6, 2020, the range will increase by 3%.
Benefits provided are pursuant to the Confidential and Mid-Management Group MOU. Highlights:
PERS retirement 2%@62 for new member, 2%@60 for classic member T-2
Retiree Medical Equal to active EE contribution
Admin Leave 88 hrs/yr.
Longevity 5%@10yrs, up to 7.5%@15yrs
Sick Leave 96 hrs/yr.
Vacation Leave
0-4 years = 100 hrs/yr
5-9 years = 150 hrs/yr
10+ years = 200 hrs/yr
Holidays 11days/yr. & 28 hrs Floating
Short-Term & Long Term Disability Plan
Life Insurance $100,000
Gym Reimbursement $90 per quarter
Medical Plan* PERS Medical Plan*
Dental Plan* MetLife Dental
Vision Plan* Superior Plan
* Some employee costs apply to health plans
** Deferred compensation in lieu of medical is an option
TO APPLY
To apply for this position, please visit: koffassociates.com/jobs/
Please submit, in PDF format, a cover letter and resume combined.
As an alternative, you can mail your cover letter, employment application form, and resume to this address:
Koff & Associates
2835 Seventh Street
Berkeley, CA 94710
Email questions to: recruiting@koffassociates.com
The Town of Paradise is an equal opportunity employer encouraging workforce diversity.