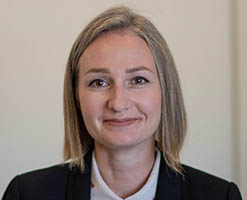 Renate's professional qualifications include four (4) years of both non-profit and private sector Human Resources experience. Starting in Human Resources administration and rising into Human Resources management, she gained experience in full-cycle recruitment, orientation and on-boarding, Health and Safety, Worker's Compensation, licensing and accreditation, policy development, and general Human Resources administration.
Since joining Koff & Associates in 2017, Renate has assisted with the firm's proposal development and has worked on several Classification and Compensation Studies for cities, towns, and special districts.
Renate earned her B.S. degree in Psychology from the University of Northern British Columbia, in Prince George BC, Canada. She was a Canadian Human Resource Professional (CHRP) Candidate before coming to the United States.