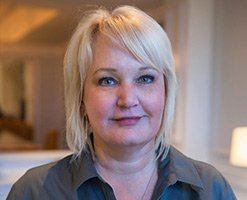 Kelly's professional qualifications include over fourteen (14) years of experience in the Human Resources field, primarily as a generalist. She spent the first twelve (12) years in the private sector as a Human Resources Manager working for global companies such as Parker Hannifin and 3M. Kelly gained experience in employee relations, policies and procedures administration, recruitment activities and performance management. Kelly was Director of Human Resources for a multi-state manufacturing company where she oversaw corporate human resources. Kelly transitioned to human resources consulting providing human resources audits, policy and procedure development, performance management and investigations for local businesses and classification and compensation studies for the public sector.
As a pro-bono consultant for Taproot, Kelly assisted non-profits with evaluating human resources functions so they operate more effectively. Kelly has been a guest speaker on Talent Talk Radio Show, and a guest speaker at Loyola Marymount University's MBA student class speaking about performance management.
Kelly Basoco holds a Bachelor's degree in Business and Human Resource Development from Notre Dame College.